Venue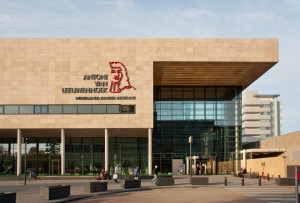 SWAT4LS 2016 will be held at the National Cancer Institute, Amsterdam (http://www.nki.nl)
The Netherlands Cancer Institute (NKI) is located in the Antoni van Leewenhoek (AvL) hospital, which is also next to the MC Slotervaart hospital. On maps, you will need to look for Antoni van Leewenhoek (AvL) hospital.
Caveat: Google maps will send you to the back side of the hospital (corner of Plesmanlaan and Johan Huizingalaan). The main entrance is located on the opposite side of the building. From the main entrance, you will need to walk straight through to the auditorium on the other side of the building.
Walking route to main entrance from nearest tram and metro stops: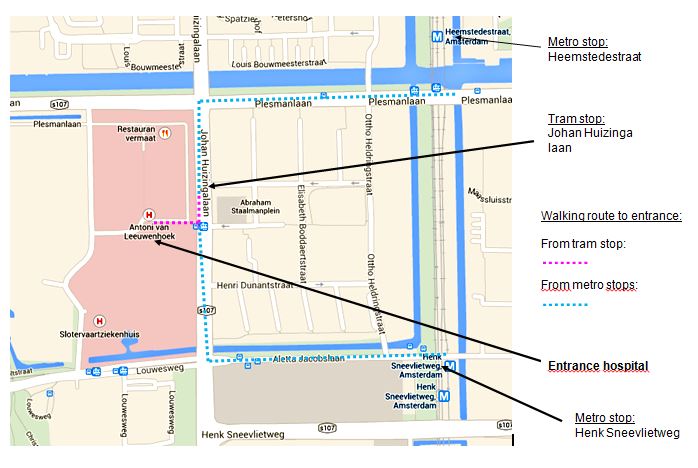 See the Public transport instructions from your departure location. Note: These instructions also take you to the wrong side of the building. See the map provided by NKI and the map above for the correct location of the main entrance.
Travel to Amsterdam Central Station from outside the Netherlands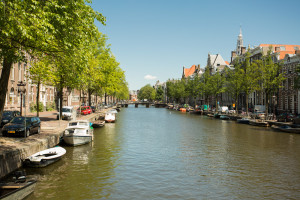 By Air: Schiphol Airport (AMS). From Schiphol, about 9 trains per hour leave to Amsterdam Central Station. The trains take 14 – 18 minutes to reach Central Station. The website ns.nl can help plan your journey and http://9292.nl/en will get you door-to-door. Corresponding apps: Reisplanner and 9292.
By Train: Amsterdam is easily reachable by train from most of Europe, including Paris, London, and Berlin. International trains offer their services in the local language in each European country. See for example, Deutsche Bahn, Thalys (special train service Amsterdam-Paris), etc.
Getting around Amsterdam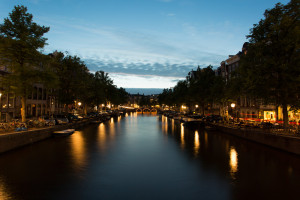 Bikes are a great way to get around Amsterdam but stay alert for the many types of traffic. There are many easy to find bike rentals for tourists. For those with an ov-chipkaart, ov-fiets is highly recommended.
Most places are easily accessible with combinations of walking, tram, metro, bus, and train:
http://9292.nl/en
Cars are not convenient for getting around Amsterdam.
Amsterdam Accommodation
There is a new hotel "Hotel Couture" in walking distance of the Netherlands Cancer Institute and a very nice area of Amsterdam with many restaurants and bars. We recommend that you book a room directly by phone or by email (not through the website) to obtain the best available rate at that moment.
E-mail address: info@hotelcouture.nl – tel: +31 20 2629263
Other hotels closeby:
Visiting Amsterdam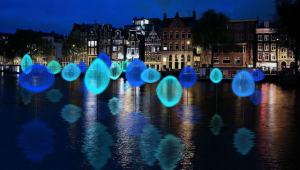 Image credits: DJGA Architects (top), I amsterdam Mediabank (2nd, 3rd), Amsterdam lights festival (4th)